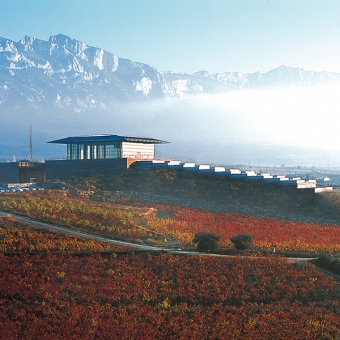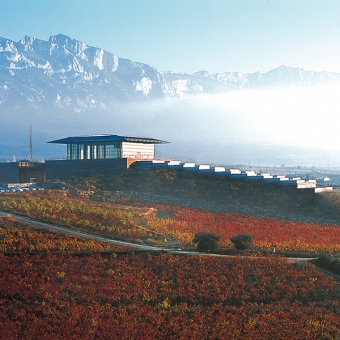 At Bodegas BAIGORRI, the force of gravity drives the wine elaborating process. Built 35 meters underground, the winery uses the most rigorous methods selecting grapes by hand, harnessing gravity and avoiding the use of hoppers, pumps or mechanical methods of any kind that might damage the grape or the wine. The winery, as much a work of art as the wines it produces, is one of the landmark buildings in Rioja Alavesa. A glass box, empty so as to emphasize the environment, emerges from the soil and welcomes the visitor showing the surrounding vineyards in all their splendour.
Bodegas BAIGORRI is located in the town of Samaniego in Álava, at the foot of the Sierra de Cantabria. A glass box, perfectly integrated into its surroundings, emerges from a privileged location in Rioja Alavesa, and welcomes the visitor showing the surrounding vineyards in all their splendour with the River Ebro in the background. A beautiful setting to grow vines.
The winery was designed and built by the architect Iñaki Aspiazu, who tailored the building to the unique way our wines are made, creating an architectural landmark in the area which blends with its surrounding. The building is fully adapted to the existing topography and to the work carried out underneath its surface. It is a wide and open space, where cleanliness and order impress the visitor. A space that shows in full view and in an instructive manner the winemaking process at harvest time.
Gravity is the main protagonist at Bodegas BAIGORRI, allowing the grapes to be fermented completely intact. It is a vertical process, with all movements of grapes and wine done by gravity, avoiding the use of mechanical methods of any kind. There are no reception hoppers or pumps to move the grapes or pump them over in the tank. Right from the selection tables to the bottling line through to the winery's different underground levels, all phases of production are optimized.
The prime motivation of Bodegas BAIGORRI is lift the wine to its greatest expression, basing its labour in I+D+I, searching for the most carefully and constitutional way to transform the nature-given quality into wine.