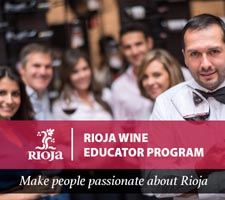 The initiative, which returns after two successful years, aims to recruit professionals with an ability to influence major wine consuming countries and provides training on specific knowledge about Rioja wine.  Following the course, these professionals will become Control Board approved educators, ensuring the quality and rigour of the knowledge of Rioja wines and Rioja experiences are transmitted within their reach.
This programme will once again be very selective when it comes to admitting candidates. The first two courses saw more than 250 candidates with extensive professional and training experience in the wine world in the areas of communication, education and sommelierie, as well as wine retail sales and distribution. Entries from China and Spain will be selected in separate dedicated categories following a significant increase in entries from these countries in 2017.
The educational programme is approved by the D.O.Ca. Rioja and includes an online course available in Spanish and English, with tests, a final paper and further training alongside other students during a week's stay in Rioja. Selected participants will visit the region in three groups, a first group from China, a second group from Spain and a third group with future educators from all other countries.
Riccardo Aguiriano, Marketing Director of D.O.Ca. Rioja Control Board comments:
"We are proud of the success of the past two Rioja Wine Educators programmes and next year we expect to close with 57 official Rioja educators from 19 countries. With new regulations coming into place in the next few years, we believe there has never been a more exciting time to communicate the specificities that go into ensuring the quality and rigour of Rioja wine. Our training is first class and these educators will help us take Rioja to the next level."