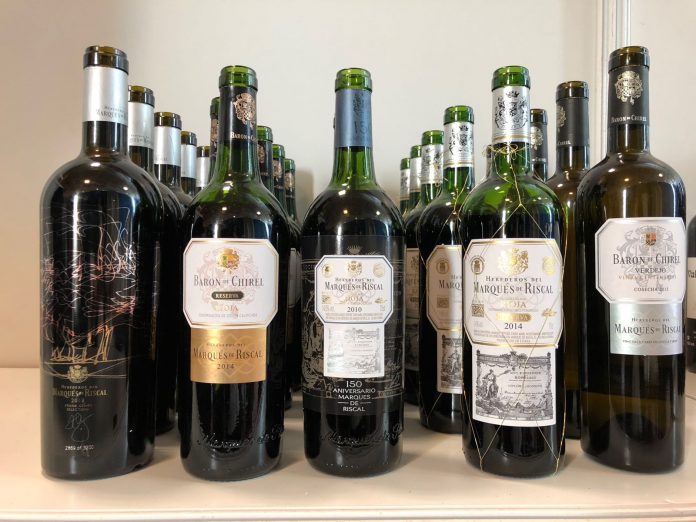 Bodegas de los Herederos del Marqués de Riscal had the pleasure of opening Enofusión 2018 with a talk about the old vineyard and premium wine tasting.Francisco Hurtado de Amézaga, Technical and Production General Director, and Luis Hurtado de Amézaga, Technical Director of Marqués de Riscal Rueda, made a tour of the oldest vineyards of Elciego and Rueda to the attending.
Through the tasting of the following wines:
Gehry Selection (2012) – Resultof a careful selection of grapes from own vineyards over 80 years old. It is a wide, complex and spicy wine, very well structured, with very ripe fruit (100% Tempranillo) and a powerful and sweet tannins, with a long and lasting persistence.
Barón de Chirel (2014) – Dark cherry wine, lively, with hardly any signs of evolution. It has a high aromatic intensity, where the toasted and spicy notes contributed by the French oak stand out, together with notes of ripe black fruit. The palate is fresh and unctuous, with soft and polished tannins where wood is very little presente. Complex and elegant, with a long and balanced finish.
Marqués de Riscal 150 Annyversary (2010) – Cherry wine very dark. It has a roasted, balsamic, compex aroma, with spicy notes of black pepper and cinnamon. The palate is fatty, well structured, with a great tannic concentration, round and with a long and silky finish.
Marqués de Riscal Reserva (2014) -Wine of cherry color quite covered elaborated with Tempranillo, Graciano and Mazuelo grapes. Balsamic and spicy aroma of great complexity, with notes of ripe black fruits and slightly toasted. The palate has good structure, is tasty, dense and with round and elegant tannins. The finish is long and fresh, with a slight memory of oak.
Barón de Chirel Viñas Centenarias (2015) – Chosen by the AEPEV, Association of Journalist and Writer of Wine, as the best white wine in barrel of 2017. Made from grapes harvested by hand in boxes of 20kg from very old vines over 100 years grown in glass from the area of Segovia. Looking for a supply quality wood that gives the wine a bigger package, more depth, but that respects the eminently mineral character of this terroir. It is a wine with a dense, long and tasty mouth. Its natural acidity, thanks to the altitude of the farms (some over 900 metres), ensures a good evolution in the bottle.
Enofusión, the International Wine Conference, was hold its eighth edition on the 22nd, 23rd, and 24th of January 2018 in Madrid's Exhibitions Center, together with "Madrid Fusión", the Gastronomic Summit of Madrid Fusion.
Marques de Riscal exceed 100, 000 visits
Also, during 2017, the Bodega of the Marqués de Riscal City of Wine in Elciego (Álava) has exceeded 100,000 visitors for the first time, 20 times more than the figure of around 5,000 tourists who visited the bodega in 2005, the year before the inauguration of the Hotel Marqués de Riscal designed by the architect, Frank O. Gehry.
Marqués de Riscal were pioneers in Wine Tourism in Spain when they inaugurated the City of Wine in October 2006, bringing together a unique experience: tours of their cellars, including the original one founded in 1858, the architecture of the Hotel Marqués de Riscal, designed by Frank O. Gehry, the fine dining of a Michelin-starred restaurant under the guidance of the celebrated Riojan chef, Francis Paniego, and the relaxation of the Caudalie Vinotherapie® Spa.