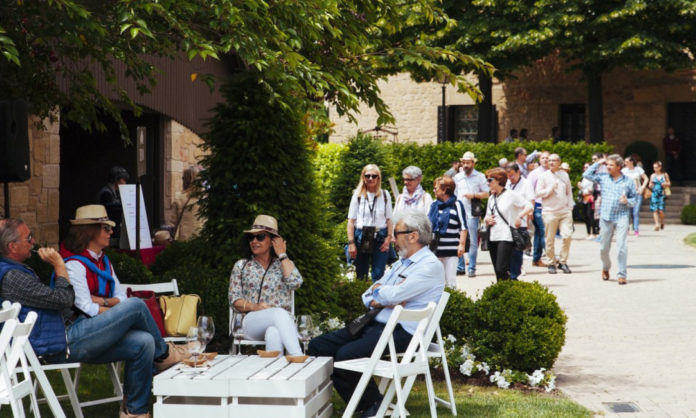 The third edition of the Haro Station Wine Experience, the most exclusive and gourmet edition, closed its doors successfully. On a sunny, festive day in Haro, around 3,500 people, including end consumers and the press, have enjoyed a journey through Spanish wine growing history where the best Rioja wines, along with the most prominent local cuisine, have been the main players in an unforgettable experience.
"Wine and its culture have triumphed today, driven by the vivid movement which is that of the Haro Station Wine Experience," Agustín Santolaya, the rotating president of the Station Wine Experience and Managing Director at Bodegas RODA stated.
"It has been amazing to see how the public has enjoyed the experience, enveloped in a magical surrounding filled with parties and happiness. Great La Rioja cuisine, put on by true artists like Francis Paniego, Carlos Echapresto and Juan Ángel Rodrigálvarez, went perfectly with the 14 splendid wines that we have tasted."
The seven host wine cellars, López de Heredia Viña Tondonia, CVNE, Gómez Cruzado, La Rioja Alta, S.A., Viña Pomal Bodegas Bilbaínas, Bodegas Muga and Bodegas RODA, have offered a careful selection of 14 internationally renowned wines throughout the day, which have been tasted in a specially selected glass for this unique day, that the guests have taken away as a souvenir. Wines that have been perfectly combined with seven dishes from the best local cuisine, created for the occasion by the La Rioja Michelin Star chefs Francis Paniego -El Portal del Echaurren- and the Echapresto brothers – Venta Moncalvillo-.
Creations that have fused the renowned traditional yet innovative La Rioja cuisine with a proposal to delight the fans: "Echaurren ham and chicken croquettes" with Viña Tondonia Red Reserva 2005 and Viña Bosconia Red Reserva 2006 from López de Hederia Viña Tondonia winery, "Pork rib toasted brioche with honey sauce, spicy 'alegría riojana' chillies and pickled aubergines" with Viña Ardanza 2009 and Gran Reserva 904 2009 from La Rioja Alta, S.A., "Tail cuts with red wine over a creamed potato and its own sauce" with Muga Reserve Special Edition 2012 and Prado Enea Gran Reserva 2004 from Bodegas Muga winery, "Migas del pastor (breadcrumbs) with cooked meats from La Rioja, grapes and egg yolks" with Monopole Clásico 2015 and Imperial Reserva 2014 from CVNE, "Alubias pochas (succulent beans) with lightly fried vegetables and chillies in oil" with Honorable 2014 and Pancrudo 2016 from Gómez Cruzado, "Glazed cod with La Rioja sauce" with Viña Pomal Compromiso 2015 and Viña Pomal Gran Reserva 2011 from Viña Pomal Bodegas Bilbaínas winery and "Beef snouts stewed like 'the boss' showed us" with RODA I 2010 and RODA 2013 from Bodegas RODA winery.
To reinforce the great entertaining atmosphere, the seven organising wine cellars have put on musical shows in the streets of the area, as well as different cultural and wine proposals with the added aim of giving the participants an insight into the art and culture of wine creation. So, the following stood out: "Disgorging the wine cellar" at Viña Pomal Bodegas Bilbaínas, "Imperial Aromas" at CVNE, "Cooperage, barrel breaking and barrels" at Bodegas Muga, "Artistic performance 'Figures talk to wine'" at Bodegas Gómez Cruzado, "Artisanal racking" at La Rioja Alta, S.A., "Two architects: Juan Cabrera Latorre and Zaha Hadid" at López de Heredia Viña Tondonia and the "Projection": "Each bottle is a reflection of our landscape" at Bodegas RODA.
Thanks to the successful third edition, the Haro Station Wine Experience is once again the embodiment of Spanish wine events, as the huge media coverage confirms thanks to the hundred national accredited journalists present.