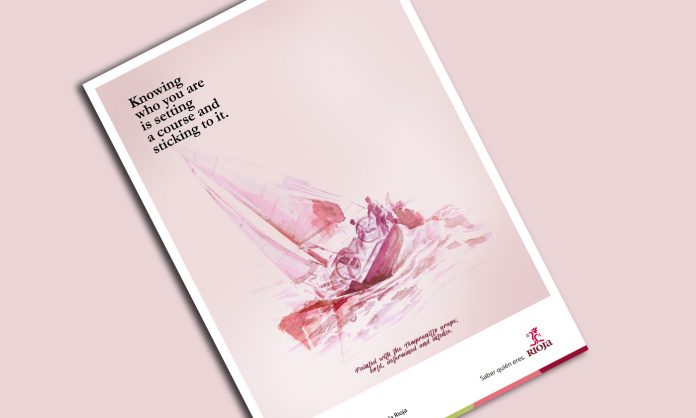 On Monday 9th April, the Denominación de Origen Calificada Rioja launched its new brand identity at The Mondrian in London with an event entitled 'The new face of Rioja'. Leading names from the UK wine industry attended where representatives from the Consejo Regulador introduced the region's new global message – Saber quién eres.
The presentation was followed by a panel discussion led by renowned wine writer and Spanish expert Sarah Jane Evans MW, accompanied also by Beth Willard, Buying Manager at Direct Wines, and Neil Bruce, Head of Wine at Fuller's. The panel discussion focused on the legislative changes and new indications that took place in Rioja in 2017.
Rioja's new global message seeks to maintain the region's leadership in Spain and growth in foreign markets. The conceptSaber quién eres, created by Spanish advertising agency Shackleton, directly translates as 'Knowing who you are'. The concept is being presented globally and introduced to 11 key markets including Spain, the United Kingdom, Canada, China, Denmark, Germany, Ireland, Mexico, the Netherlands, Russia, Switzerland, and the United States.  Another key element of the new messaging is a series of illustrations by Riojan artist Carlos Corres which have been painted with wine from grapes native to Rioja including Tempranillo, Garnacha, Mazuelo, Maturana and Graciano.
Ricardo Aguiriano, Marketing Director for the Consejo Regulador DOCa Rioja explained, "Saber quién eres is a concept that connects Rioja wine with consumers in an approachable manner. It is a concept that captures Rioja's most intrinsic values including tradition, diversity and origin. With this new campaign, Rioja demonstrates that it rises far above short-lived trends."
In 2017, Rioja approved a series of new indications including Vinos de Zona (Rioja Alta, Rioja Alavesa, Rioja Baja), Vinos de Municipio (villages, towns or municipalities), Viñedos Singulares, Espumosos de Calidad de Rioja (sparkling wines), as well as new ageing requirements for Reserva and Gran Reserva wines, and permitted the production of single varietal white wines.
Award-winning wine writer and member of the Gran Orden de Caballeros de Vino Sarah Jane Evans MW who hosted the panel discussion, commented on how the new indications present an opportunity for Rioja, "One of the many joys of Rioja is its diversity.  These latest developments add an extra layer of interest for consumers, giving them more opportunities to explore and understand the DOCa."
Jose Luis Lapuente, Director, Consejo Regulador DOCa Rioja commented, "The current categories are the key success of Rioja. Rioja is constantly improving, reviewing its definitions and strengthening what it currently offers with new geographical indications. The goal is to highlight the unique origin of the terroir, recognise its diversity, and to continue to establish quality requirements which assure the high standard of its wines."