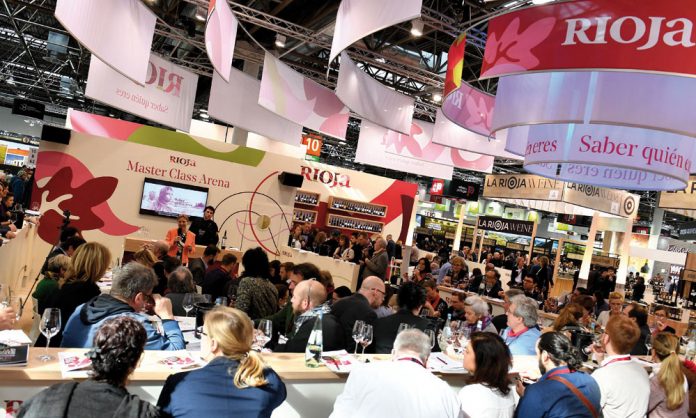 The Denominación de Origen Calificada Rioja participated for the fourth consecutive year with its own stand at Prowein, the number one international trade fair, held in Düsseldorf on 18-20 March. There, it presented its new global brand message, Saber quién eres, through a wide range of activities organised in the Rioja stand.
The goal is to provide added value to the large number of Rioja wineries which attend the fair through the Control Board's space by fostering business opportunities. To this end, this year's image of Rioja featured new colours and illustrations, where the global message Saber quién eres, a polysemic concept that defines the identity and origins of the region and the personality of the consumer who chooses Rioja, received very positive feedback among the public and captured the attention of thousands of visitors through the illustrations painted with wine by the Riojan artist Carlos Corres.
The Rioja space covered 225 square metres, and enjoyed a busy time during the fair. As in previous years, it had three experience and education areas: 'Master class arena' devoted to training professionals who communicate the culture and values of the region; 'Tapas & wine bar' where 6,000 glasses of wine were poured accompanied by more than 1,000 tapas prepared by the chef Moritz Crone-Rawe of Rolling Taste and a 'Business Lounge' to host meetings between winemakers and trade professionals.
The Control Board general director, José Luis Lapuente, found this fourth participation in Prowein very satisfactory, where this year Rioja came with a 'spectacular' stand that transmitted the values included in the new image. "We helped our wineries and therefore, indirectly, our growers, to generate business and this is always very rewarding." In addition, he highlighted the great feedback that the new image got from the public. "The notes of originality and fresh air that we have brought to Prowein this year have awakened great expectations, not only among Rioja wineries but also among consumers, influentials and the competition," he said.
In this sense, Lapuente talks about the mission of the twelve seminars organised during the fair in which almost 80 wines were tasted by more than 500 participants. "They are a vehicle of communication through which we learn what the expectations of the influentials are, beyond appreciating the wines." In these sessions, the DOCa Rioja displays its full range of products and illustrates "the relationship that consumers have with our wines and what they expect from them."