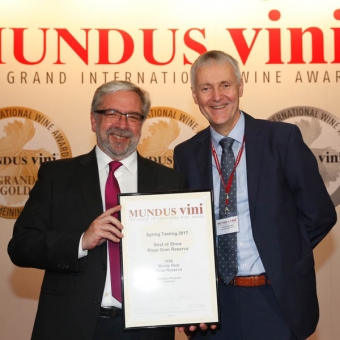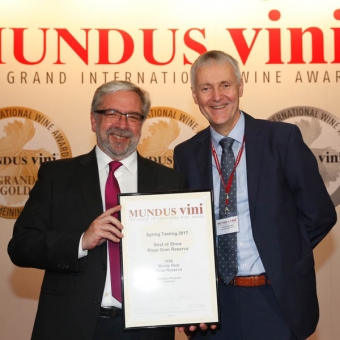 Bodegas Riojanas again earned recognition from experts in international competitions; Mundus Vini and Berliner Wine Trophy.
Monte Real Gran Reserva 1998 from Bodegas Riojanas won the top prize (Gold Medal and Best of Show) in the Gran Reserva category  in the prestigious Mundus Vini competition. This recognition comes on the wake of the two silver medals given to the Monte Real Reserva 2012 and Monte Real Crianza Tempranillo 2014 at the same event, and the gold medal received by the Monte Real Reserva de Familia 2012 at the Berliner Wine Trophy competition.
The Mundus Vini prize-giving competition was held on 20 March during the Prowein fair in Germany, which has become the world's leading international wine business event. Bodegas Riojanas Group returned this year with a booth with the new vintages of its most recognised brands, Monte Real, Viña Albina and Viore, and innovations such as the award-winning Gran Reserva 1998. The group's presence in such an important exhibition responds to its commitment to internationalization, one of the three main pillars of the strategy of Bodegas Riojanas," according to Bodegas Riojanas CEO, Santiago Frías, for whom "the efforts made in recent years in the development of a sales network that already spans 30 countries have resulted in a marked increase in exports in markets such as the UK, Ireland, USA, Mexico and Germany, the most significant destinations."
 
The export manager of Bodegas Riojanas, Josetxo Soria said when he received the special Mundus Vini special prize for Monte Real Gran Reserva 1998 that "this new success confirms how highly international experts value the inimitable character of Rioja classics, whose qualities for ageing are unique in the world of wine." Only 23,000 bottles are being marketed of this special limited edition of the 1998 vintage. After almost twenty years, wine lovers can now fully enjoy the unique characteristics of one of the great Rioja classics, powerful and well-structured, yet endowed with great finesse and elegance. The bottle is priced at 36 euros in wine bars and can also be purchased at the Bodegas Riojanas online shop (www.bodegasriojanas.com).
 
British critics recently awarded Viña Albina Reserva Vendimia Seleccionada 2011 recognition as best wine of Rioja in the Rioja Masters 2016 competition. This award was also received by the historic Monte Real 1978 vintage in 2014. More than twenty prizes at major international competitions in recent years coupled with the high scores given by the most prestigious wine guides in various countries are proof of the recognised quality of the Gran Reservas made by this century-old winery. Bodegas Riojanas specialises in premium, barrel-aged wines and 65% of its sales are in the Reserva and Gran Reserva categories. This is a very high percentage if one takes into account that, in the D.O.Ca. Rioja as a whole, these categories barely amount to 18% of sales.