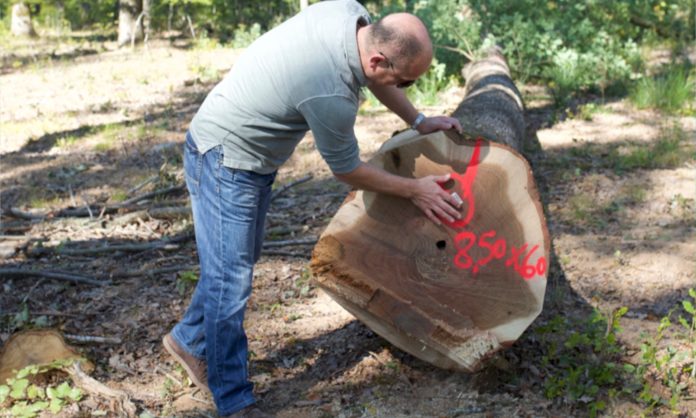 The experience in the sector of the "Tonelería of ASG", first in the area of production of Radoux-Victoria and later as co-founder of "Tonelería Quercus", allows us to execute a pioneering system in the management of the Bodegas Luis Alegre´s barrel room.
At Bodegas Luis Alegre approach the process from the absolute beginning and birth of the barrel. They travel to France, always to the forest of Bertranges (Nevers) and Vosges. Then, they select the specimens that due to their characteristics fit with their requirements (forest of origin, minimum age of 180 years so that there is a perfect aromatic generation and there is not any alteration of the wood caused by fungi, knots, etc).
These specimens are transferred to cooperages that must compulsory have a drying park where the wood extracted from the tree fulfils a tanning process and the aromas increase. This process must last for at least 28 long months to achieve the organoleptic objectives set by the winery.
In this period of time, the selected woods are analysed (as in the case of the grapes during their follow-up of final maturation in the vineyard) to determine the moment in which the barrel is manufactured taking into account the type of wine that they are going to raise.
Their wines are elaborated after a rigorous and caring selection of grapes at the moving selection table. Then the fermentation happens in small wood or stainless-steel tanks for 6-8 days. After this period, the second fermentation happens (malolactic fermentation) in barrels from different oak forests. The length of stay in these barrels depends on the type of wine that is been elaborated and on the characteristics of the vineyards, considering that winery wines and single vineyard wines have a diverse elaboration process. The variety of grapes which they elaborate their wines with (their estate vineyards) is mainly tempranillo, so it takes a great part of their vineyards. And they complement it with another varieties that are also autochthonous as graciano or garnacha, which allows their wines express all the best of each variety.