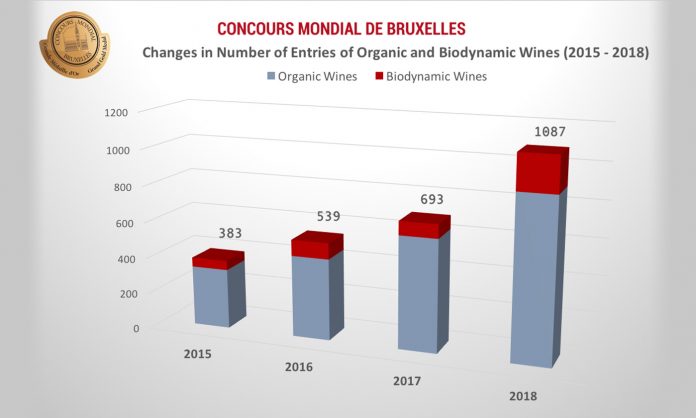 60% growth in organic wines, many from China
Over nine thousand one hundred and eighty (9,180) wines have been entered this year in the Concours Mondial de Bruxelles (CMB), again marking an increase compared to last year. The growth is due to the rise in entries from China. For the first time, a country from Asia has entered the top five country list. Now China ranks fifth by number of entries, preceded only by France, Spain, Italy and Portugal.
After the increase of 112.5% in entries from China in 2017 vs. 2016, the Asian country posts another rise in 2018, this time of 90.2% compared to 2017. "Chinese consumers set great store by medals and use them as a guideline in their purchasing decisions. Retailers are looking for awarded wines to meet market demand, whilst wine makers see awards as an opportunity to enter new markets, which is what motivated strong Chinese participation in the competition", said Thomas Costenoble, CMB managing director. China's wine production and consumption are on the rise.
Organic entries in CMB showed a tremendous increase of nearly 60% compared to 2017, accounting for almost 12% of the total number of wines in 2018. Consumers are increasingly aware of provenance and wine production methods, thus favoring organic products. Recognizing this market development, CMB introduced a new category dedicated to organic and biodynamic wines, the "Organic Wine Trophy", which was awarded for the first time in 2017.
Organic Wines
Most of the organic wine samples come from Italy, France, Spain, and…China. In fact, over one third of all Chinese entries in the CMB in 2018 are organic and biodynamic. Baudouin Havaux, Chairman of the CMB, believes the trend is due to Chinese consumers' perception of organic wines as a guarantee of higher quality, which encourages wineries to produce organic.
According to the International Organisation of Vine and Wine (OIV), the three main European producing countries in 2017 were Italy, France and Spain. This is mirrored in the list of entries to CMB, which ranks these countries as the top three participants.cmb-infographie-samples-201848 wine producing countries will take part in this year's competition. The top ten by number of entries (in descending order) are: France, Spain, Italy, Portugal, China, Chile, Switzerland, Greece, Mexico and South Africa. Mexico enters the top-ten list for the first time in the CMB's history.
The two new countries submitting entries to CMB for the first time in 2018 are Albania and Kazakhstan (the latter with 26 samples). In 2018, the competition sees extremely strong participation from Moldova, Ukraine, Armenia and Russia, with entries from these countries higher than ever. Wines from Azerbaijan are also on the rise. Opportunities in the Chinese market are a strong pull for these countries (e.g. Russia and Kazakhstan are bordering China).The second reason for the surge in registered entries is greater international awareness of the Concours Mondial de Bruxelles.
In 2018 CMB entries will be judged by over 330 journalists, buyers, oenologists and sommeliers. The 25th CMB will be held from May 10 to 13, 2018, in Beijing, China – the first time a wine competition of this magnitude and significance will be held in Asia.
In line with the latest developments in technology, in 2018 CMB will implement a new digital wine evaluation system. The tasting sheets are being replaced by tablets. The digital evaluation is safer, faster and more accurate. It was pre-tested at Concours Mondial du Sauvignon earlier this year and received positive feedback from judges.
CMB is the only touring competition in the world, with 25 years' experience, and the only wine contest to perform quality control tests on awarded wines.